Minatamis na Saging na Saba Recipe and Health Benefits of Bananas
AND HEALTH BENEFITS OF BANANAS
I grew up loving Minatamis na Saging na Saba (Caramelized Saba). I also love the fact that I can add shaved ice and evaporated milk and it becomes a new dessert.
As apples in the US are to bananas in the Philippines, you can find banana trees scattered around the Philippines. Many Filipinos grow bananas in their own backyard. There are banana plantations in all three major sections of the Philippines, some owned by major food and fruit brands Dole and Del Monte. This is the reason why the Philippines is one of the biggest exporters of bananas worldwide.
Because of its availability and convenience, Filipinos enjoy a variety of bananas. When I was living in the US, I never knew that there was a kind of banana that you can cook. When my family moved to the Philippines, I was introduced to my father's farm of saba bananas and this is when I fell in love with the Minatamis na Saging na Saba and always looked for it in the various traditional Filipino desserts. Of course, my parents were surprised- I never liked fruit when I was growing up. I occasionally ate strawberries when we were able to go strawberry picking in summer.
The
Philippine "saba" banana
is known in
English
as
saba, cardaba/cardava, sweet plantain, compact banana, and papaya banana.
It is a triploid hybrid (ABB) banana cultivar that originates from the Philippines and is primarily a cooking banana though it may be eaten raw. The "saba" is one of the most important banana varieties in Philippine cuisine because it is used to make the beloved "banana ketchup" and various traditional Filipino desserts such as banana cue (fried saba bananas coated in caramelized sugar), turron (banana roll), and Minatamis na Saging na Saba (Carmelized Saba Bananas in thick syrup) which is a base for Saging con Hielo and an ingredient in Halo-halo. Most Filipinos, though, usually just boil it, peel and all, and eat it for breakfast in the mornings or maybe as a quick snack.
According to a survey, people around the globe are eating more and more bananas than any other fruit. It seems that the belief of 'an apple a day will keep the doctor away' is now becoming
' 2 bananas a day will keep the doctor away'
(Read
"2 Bananas a Day Keep the Doctor Away"
by Dr. Willie T.Ong). Bananas are healthy and are known to be rich in fiber, potassium, Vitamin C (apples do not have what can be considered a significant amount of Vitamin C, a chief antioxidant, and the oxidation of the apple can cause further loss of Vitamin C) and natural sugars. According to the Doctors of Ministry in Alternative Medicines, t
he saba bananas contain the highest amount of nutrients than any other type of banana
. Unfortunately, some of its nutrients are lost when cooked.
Saba Bananas peeled.
Image credit: The Tired Mama-ph
Before I share my recipe, here's a list of 10 health benefits of the humble banana:
1.
Bananas provide a simple solution for constipation because they
provide a natural source of dietary fiber.
Bananas have soluble fiber which may help lower blood cholesterol and reduce the risk of heart disease and stroke.
2.
Bananas contain one of the highest amounts of potassium among all fruits and vegetables.
Since bananas are rich in potassium, their consumption promotes overall circulatory health.
Simply, bananas are good for the heart.
Eating bananas help regulate delivery of oxygen to the brain, blood pressure, heart rate, maintains the balance of water in the body and reduces the risk of stroke. It was suggested in an editorial in the Neurology Journal that
eating a banana every day may keep a stroke away.
Also, the high potassium content prevents
cramps
.
3.
Bananas fight fatigue and anemia.
They are rich in carbohydrates and vitamins and minerals for energy and
iron for healthy red blood cells
.
It is said that eating 2 bananas will provide you with enough energy to exercise for one hour and a half.
Bananas provide a level of energy that lasts longer than caffeine in a cup of coffee or a high sugar snack. Also, bananas, being rich in vitamins, reduces the effects of a hangover.
4.
Helps reduce and neutralize acidity in the stomach which helps reduce the occurrence of stomach ulcers and heartburn, serving as a natural antacid.
5.
Rich in B vitamins.
Contains vitamin B6 which helps relieve menstrual cramps in women and regulates body temperature during pregnancy.
This water-soluble vitamin also aids in the production of tryptophan, serotonin, and melanin that aid in sleep thus combating insomnia.
These B vitamins in combination with nutrients found in the bananas help reduce the physical and psychological effects of nicotine withdrawal in the body, thus may aid people who wish to quit smoking.
6.
Ripe yellow bananas have a low glycemic index of 51 meaning they have a slow effect in raising blood glucose levels.
However, when bananas become overripe, the starch content turns into sugar. Therefore,
diabetics are allowed to snack on 1-2 ripe bananas a day
but, never an overripe one.
7.
Bananas contain tryptophan which is a protein that converts to the hormone serotonin that improves mood and helps make a person feel happy combating stress and depressio
n.
8.
Moms take note
: According to the European Respiratory Journal (February 14, 2007),
a study on the effects of the consumption of 1 banana every day among 2,600 elementary school children in South London on wheezing and asthma attacks concluded that there was a significant reduction on the episodes and attacks in children.
Other fruits were not as beneficial.
9.
Bananas have zero sodium, zero fat, and zero cholesterol
.
10.
Bananas are affordable.
You will definitely not have a heart attack with the price of bananas if you do not have banana trees in your backyard. Right now here in the Philippines, saba bananas are 20Php/ kilo.
Last Holy Thursday, I decided to cook Minatamis na Saging (carmelized Saba bananas in thick syrup) so my family can enjoy Saging con Hielo (Yelo). It is currently summer in the Philippines and yes, it is super HOT! An iced/cold dessert is great to cool us from the heat.
The caramelized bananas turned out great so, I decided to share my recipe so you and your family can enjoy this simple but tasty dessert. It's easy to cook and doesn't take much time. This recipe is for a dozen saba bananas. By the way, the storage life of Minatamis na Saging na Saba (Caramelized Saba Bananas) is 1 week.
Minatamis na Saging na Saba Recipe
Minatamis na Saging na Saba (Caramelized Saba Bananas)
A Filipino homecooked traditional dessert recipe using Saba Bananas. This is a childhood favorite of mine.
Ingredients
12 pieces

Ripe Round Banana Saging Saba

2 1/2 cups

Brown Sugar

1 teaspoon

Vanilla Extract

1/4 teaspoon

Salt

6 cups

Water
Instructions
1. Peel the 12 pieces of Ripe Round Banana Saging Saba with a knife, cutting from the stem and peeling downward. You may cut into thin slices, halves or leave whole. Set aside.
2. In a medium-sized pot, combine water, brown sugar, vanilla extract, and salt. On high heat, bring to a boil.
3. Add the 12 peeled Ripe Round Banana Saging Saba into the sugar-water mixture slowly and carefully (sugar-water mixture is extremely hot). Simmer under low heat for 45-60 minutes, stirring occasionally. Bananas should turn caramel in color, soften, and sugar-water mixture should thicken by 45-60 minutes. This means the bananas are cooked.
4. Remove from heat and let cool. Place in serving bowl. You may now enjoy your caramelized saba bananas or allow to chill in refrigerator, or add shaved ice and evaporated milk for Saging con Hielo.
Details
Prep time:
Cook time:
Total time:
Yield:

12
Nutrition Facts about this recipe are below: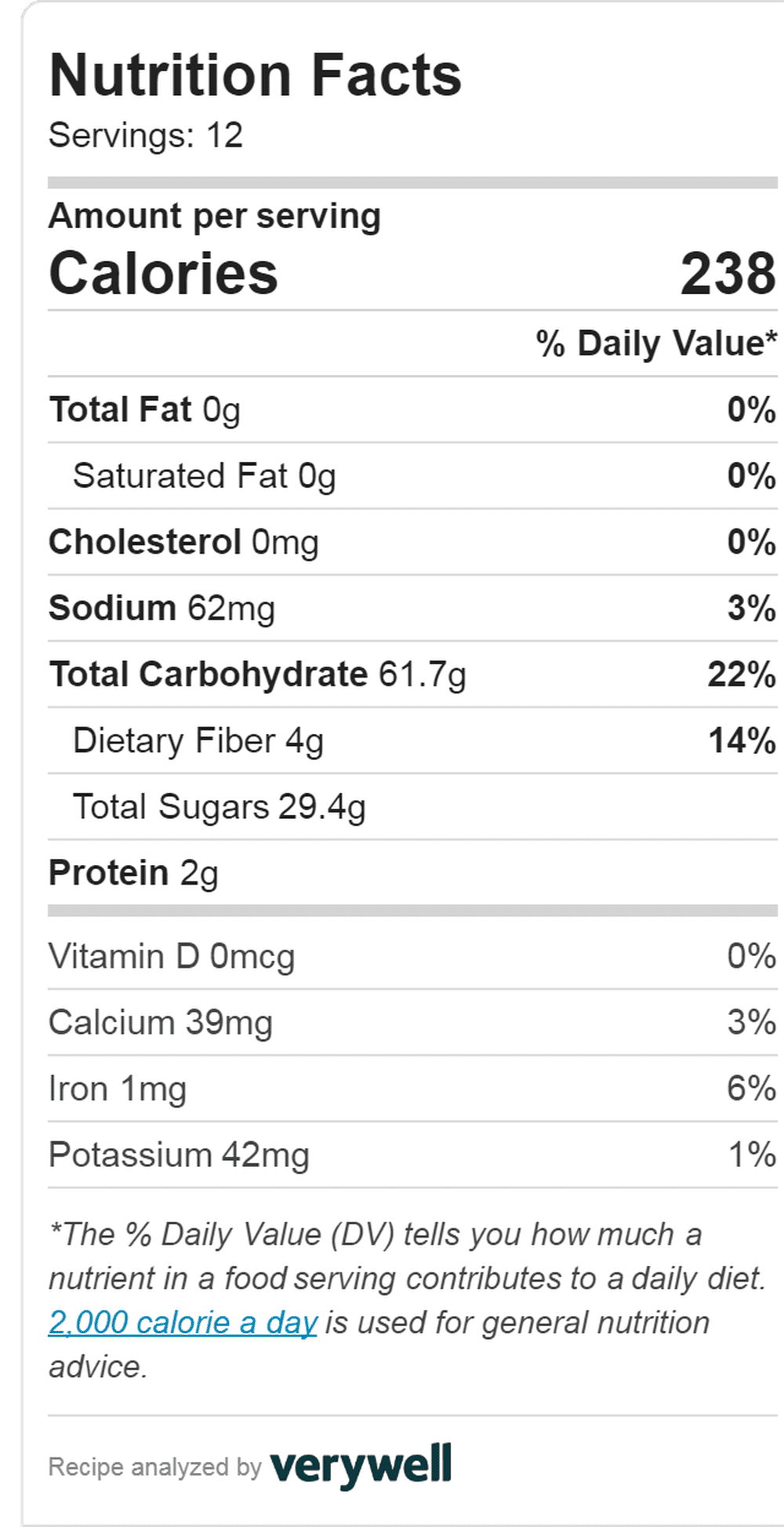 The ingredients in this recipe are affordable. I spent 30Php (~60 cents USD) for the saba bananas, 25Php (~50 cents USD) for half a kilo of brown sugar, and 25Php (1 bottle of Vanilla extract). Easy to make and easy on the wallet.
Saba bananas in a serving bowl. I ate 2 right out of the pot. Yummy.
Image credit: The Tired Mama-ph
Hope you enjoy this recipe as much as I do. It reminds me of fond childhood memories.
Enjoy!
Related Links:
"SABA" or Cardava Banana in English Health Benefits caradavabanana.blogspot.com
*
In loving memory of Nancy...
Related Posts: